ISSN print edition: 0366-6352
ISSN electronic edition: 1336-9075
Registr. No.: MK SR 9/7

Published monthly
Evaluation of different conventional lipid extraction techniques' efficiency in obtaining oil from oleaginous seeds
Victor H. M. da Cruz, Rafael L. G. Priori, Patrícia D. S. Santos, Cintia S. F. Ferreira, Angélica de F. B. Piccioli, Roberta da Silveira, Jesuí V. Visentainer, and Oscar O. Santos
Post-graduate program in Chemistry, State University of Maringá, Maringá, Brazil
E-mail: Oliveirasantos.oscardeoliveira@gmail.com
Received: 14 April 2020 Accepted: 13 August 2020
Abstract:
Abstract
Vegetable oils present great economic importance as they can be used and marketed by different industries based on their properties. Currently, several techniques can be employed to extract oils from seeds. However, novel techniques are not easily applicable in any environment. Thus, this study aimed to evaluate the efficiency of simple techniques; Bligh and Dyer, Soxhlet, and acid hydrolysis, in extracting oil from canola, flaxseed, soybean, and sunflower seeds. The sum of fatty acids found in extracted oils indicated Bligh and Dyer as the most efficient method among those assessed. Furthermore, the lower content of polyunsaturated fatty acids quantified in oils obtained by Soxhlet or acid hydrolysis may result from oxidation triggered using high temperatures required by both methods.
Graphic abstract
Different lipid extraction methodologies were compared for the determination of fatty acid content in seeds.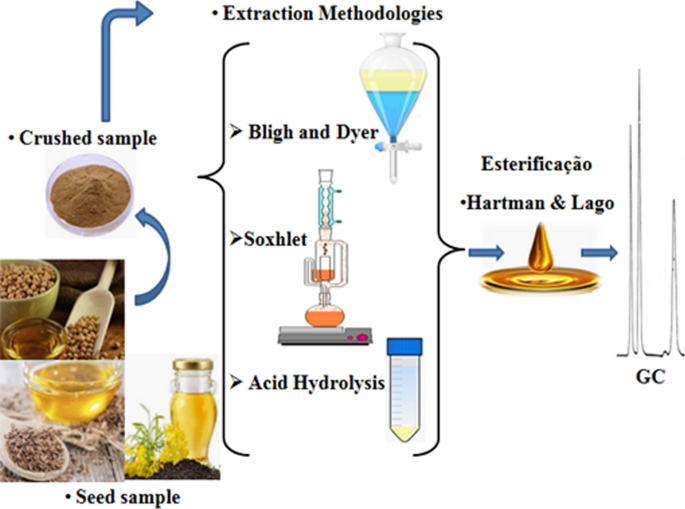 Keywords: Vegetable oils; Glycerides; Oilseeds; Gas chromatography
Full paper is available at www.springerlink.com.
DOI: 10.1007/s11696-020-01324-w
Chemical Papers 75 (2) 515–522 (2021)