ISSN print edition: 0366-6352
ISSN electronic edition: 1336-9075
Registr. No.: MK SR 9/7

Published monthly
A new method for single step sonosynthesis and incorporation of ZnO nanoparticles in cotton fabrics for imparting antimicrobial property
Aravind H. Patil, Sushilkumar A. Jadhav, Vikramsinh B. More, Kailas D. Sonawane, Shirishkumar H. Vhanbatte, Pradyumna V. Kadole, and Pramod S. Patil
Department of Physics, Shivaji University Kolhapur, Kolhapur, India
E-mail: sushil.unige@gmail.com
Received: 23 June 2020 Accepted: 12 September 2020
Abstract:
An efficient and effective sonosynthesis technique for the synthesis and simultaneous incorporation of Zinc oxide nanoparticles (ZnO NPs) on cotton fabrics is developed. The surface plasmon resonace (SPR) of ZnO NPs was studied using UV–visible spectroscopy and the average hydrodynamic diameter of the particles was determined by dynamic light scattring (DLS). The ZnO NPs incorporated cotton fabrics were characterized by X-ray diffraction (XRD), attenuated total reflectance Fourier transform infrared (ATR-FTIR) spectroscopy and Scanning electron microscopy (SEM). The tensile strength, flexural rigidity, air permeability, and water contact angle of the ZnO NPs deposited cotton fabrics were measured and compared with the pristine cotton. The SEM images showed excllent deposition of the NPs on the cotton yarns. Textile engineering characterization revealed that the inherent properties of cotton fabric remain in acceptable limits after deposition of the NPs. The ZnO NPs deposited cotton fabrics exhibited excellent antibacterial activities against Escherichia coli and Staphylococcus aureus bacteria.
Graphical abstract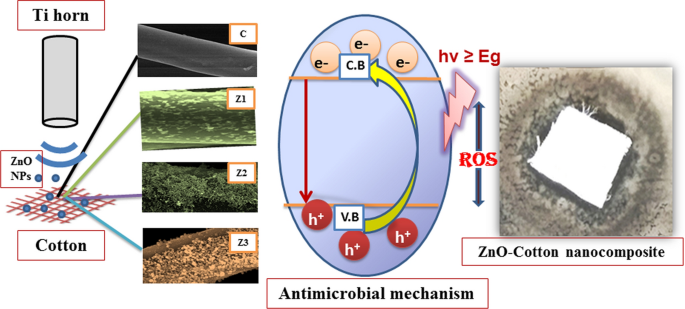 Keywords: Zinc oxide nanoparticles; Sonochemical technique; Cotton; Nanotextile; Antibacterial efficacy
Full paper is available at www.springerlink.com.
DOI: 10.1007/s11696-020-01358-0
Chemical Papers 75 (3) 1247–1257 (2021)