ISSN print edition: 0366-6352
ISSN electronic edition: 1336-9075
Registr. No.: MK SR 9/7

Published monthly
Synthesis and bioevaluation of α,α'-bis(1H-1,2,3-triazol-5-ylmethylene) ketones
Tejshri R. Deshmukh, Vagolu S. Krishna, Dharmarajan Sriram, Jaiprakash N. Sangshetti, and Bapurao B. Shingate
Department of Chemistry, Dr. Babasaheb Ambedkar Marathwada University, Aurangabad, India
E-mail: bapushingate@gmail.com
Received: 25 March 2019 Accepted: 14 August 2019
Abstract:
Curcumin is an active component of turmeric that has poor solubility, stability and bioavailability. The monocarbonyl curcumin analogues were modified from curcumin to achieve more stable and active compounds as compared to curcumin. Therefore, we have designed and synthesized a library of 18 compounds of α,α'-bis(1H-1,2,3-triazol-5-ylmethylene) ketones (8a–o) and evaluated them for their in vitro antitubercular and antioxidant activities against their respective strains. Results of biological activities reveal that some of the compounds from the series showed good antitubercular as well as antioxidant activities. The compound 8l was found as the most active antitubercular agent with MIC value 3.125 µg/mL, against Mtb H37Rv. Moreover, the compounds, 8c, 8d, 8e and 8g, also showed potent antitubercular activity. The compounds 8e and 8m displayed potent antioxidant activities with IC50 values 15.60 and 15.49 µg/mL, respectively. In support of the bioactivities, in silico ADME properties' prediction has also been carried out in this study.
Graphic Abstract: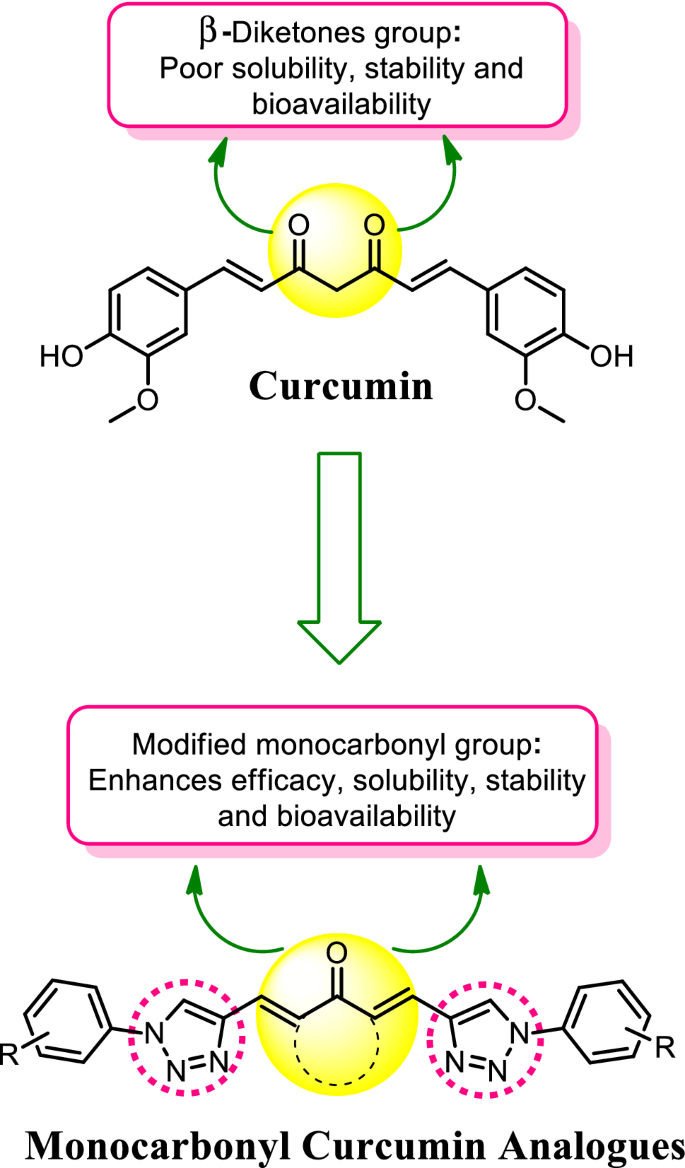 Keywords: α,α'-bis(1H-1,2,3-triazol-5-ylmethylene) ketones; Curcumin; Antitubercular activity; Antioxidant activity
Full paper is available at www.springerlink.com.
DOI: 10.1007/s11696-019-00908-5
Chemical Papers 74 (3) 809–820 (2020)