ISSN print edition: 0366-6352
ISSN electronic edition: 1336-9075
Registr. No.: MK SR 9/7

Published monthly
Sol–gel citrate procedure to synthesize Ag/Co3O4 catalysts with enhanced activity for propane catalytic combustion
Lijun Cheng, Zhao Liu, Shanliang Yuan, Min Wei, Xin Hu, Biao Zhang, and Yi Jiang
Chengdu Institute of Organic Chemistry, Chinese Academy of Sciences, Chengdu, China
E-mail: yjiang@cioc.ac.cn
Received: 27 May 2019 Accepted: 12 November 2019
Abstract:
The Co3O4 and Ag/Co3O4 catalysts with varying content of Ag were fabricated via sol–gel citrate procedure, which were used for propane total oxidation. First, Ag+ and/or Co2+ ions coordinate with citric acid to form silver and/or cobalt citrate complex, then calcined to produce Ag/Co3O4 catalysts. Among all the catalysts, the 6%Ag/Co3O4 sample exhibited a much higher catalytic performance, with 90% conversion of propane at only 228 °C, which was 24 °C lower than that of pure Co3O4 catalyst. Characterization results showed that the introduction of Ag decreased the particle size of Co3O4, increased the Co3+/(Co3++Co2+) ratio and surface adsorption oxygen content, and enhanced the low-temperature reducibility, which resulted in the outstanding catalytic performance.
Graphic Abstract: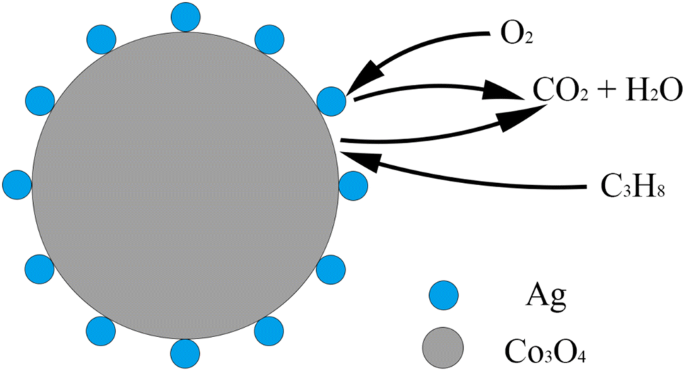 Keywords: Ag/Co3O4 catalysts; Propane combustion; Strong interaction; Active oxygen species
Full paper is available at www.springerlink.com.
DOI: 10.1007/s11696-019-00994-5
Chemical Papers 74 (5) 1449–1457 (2020)