ISSN print edition: 0366-6352
ISSN electronic edition: 1336-9075
Registr. No.: MK SR 9/7

Published monthly
Evaluation of extraction procedures applied to apprehended formulations of agrochemicals
Lucas M. Berneira, Marco A. Z. dos Santos, Caroline C. da Silva, Luan F. Passos, Rafael S. Ortiz, Alexandre de M. Machado, and Claudio M. P. de Pereira
Center of Chemical, Pharmaceutical and Food Sciences, Lipidomic and Bio-Organic Laboratory, Bioforensic Research Group, Federal University of Pelotas, Pelotas, Brazil
E-mail: lahbbioufpel@gmail.com
Received: 14 November 2019 Accepted: 18 February 2020
Abstract:
Abstract
Illicit formulations of agrochemicals comprise hazardous substances that have to be fully identified for forensic purposes. Nonetheless, analysis may be hampered by their complex matrix and few available methodologies. In this sense, the aim of this work was to evaluate the extraction of three apprehended agrochemicals using dichloromethane or acetonitrile associated with liquid–liquid (LLE), ultrasonic bath (UBAE), ultrasonic probe (UPAE) and microwave-assisted extraction (MAE) by means of chromatographic approaches. Results showed that, in certain conditions, dichloromethane could not extract the active ingredient, which was possible using acetonitrile. Moreover, LLE and UBAE extracted, respectively, 0.55 ± 0.03 and 2.86 ± 0.19 mg mL−1 of quinclorac and were generally inefficient compared to UPAE and MAE that reached, respectively, 3.54 ± 0.18 and 3.31 ± 0.16 mg mL−1 of quinclorac. Therefore, solvent and extractive protocol were crucial factors that influenced the extraction efficiency of agrochemicals, which have to be carefully evaluated in order to obtain adequate results.
Graphic abstract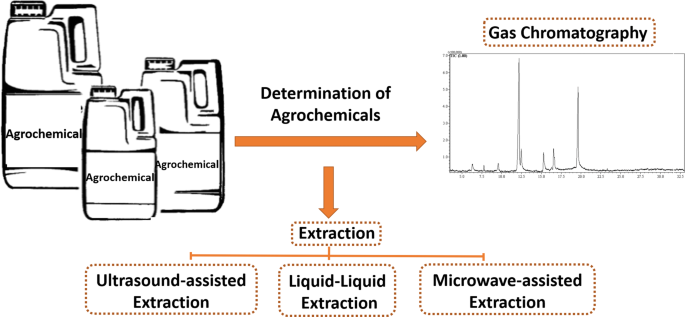 Keywords: Apprehended agrochemicals; Liquid–liquid extraction; Gas chromatography–mass spectrometry; Microwave-assisted extraction; Ultrasound-assisted extraction
Full paper is available at www.springerlink.com.
DOI: 10.1007/s11696-020-01111-7
Chemical Papers 74 (9) 2759–2768 (2020)